Function:
1.[High High-Efficiency Cleaning]: It adopts dry ice cleaning tech, which accelerates the dry ice particles through high-pressure airflow and impacts the deposits, thus removing the carbon buildup thoroughly. It can fully clean the carbon deposits in all vehicle parts without disassembling them as well. This effectively reduces the cleaning time and greatly improves efficiency.
2.[Eco-friendly & Safety]:Dry ice particles will sublimate and gasify without leaving a mess after cleaning, which greatly save your time and labor-free; it is eco-friendly that will keep equipment safe.
3.[Intelligent Control Panel]:AUTOOL HTS708 Dry Ice Blasting machine is designed with an Intelligent microcomputer inside, which can precisely control the pressure. It can be optimally adapted to the cleaning task due to its adjustable control for air pressure and ice rate.
4.[Widely Used]:AUTOOL HTS708 Dry Ice Blasting machine is ideally suited for wide applications in automobiles, electric power, rubber, plastic, chemical, printing, food, pharmaceutical, casting, ship, and aviation.
5.[Three Years Warranty, Lifetime Maintenance]:For damage caused by non-human factors, AUTOOL promises to resend parts for free within 3 years. For any needs, you are warmly welcomed to contact us and we will get back to you ASAP within 24 hours.
Features:
Highly effective cleaning equipment can greatly increase productivity.

The main function of the dry ice cleaning machine is capable of cleaning various equipment.

With this cleaning technique, on the one hand, it can avoid production interruptions due to downtime, and on the other hand, disassembly and damage to the equipment can be reduced, which essentially protects the equipment and increases productivity.
Avoid injury to personnel from hazardous materials CO2 is a non-toxic substance.

By cleaning with dry ice instead of toxic chemicals, we can prevent harmful substances from adhering to the equipment for a long time, which can affect the overall operation and cause harm to people.

Quickly removes a variety of stubborn dirty deposits.

With the dry ice blast cleaning machine, the adhered dirty deposit can be thoroughly removed, and also has good protection for the equipment, so as to avoid affecting the operation and use of the equipment while being cleaned.
Applicable fields:
Dry ice blast cleaners are widely used in fields such as rubber, casting, automobiles, ships, electric power, chemicals, printing, plastics, food, pharmaceuticals, and aviation.
Faster, easier & kind to the environment – Dry ice blasting is the most ecological cleaning solution for automobile ,industrial and F&B applications.AUTOOL HTS708 Dry ice blast cleaner built with Intelligent microcomputer can precisely control the pressure, which can freely adjust the pressure and speed.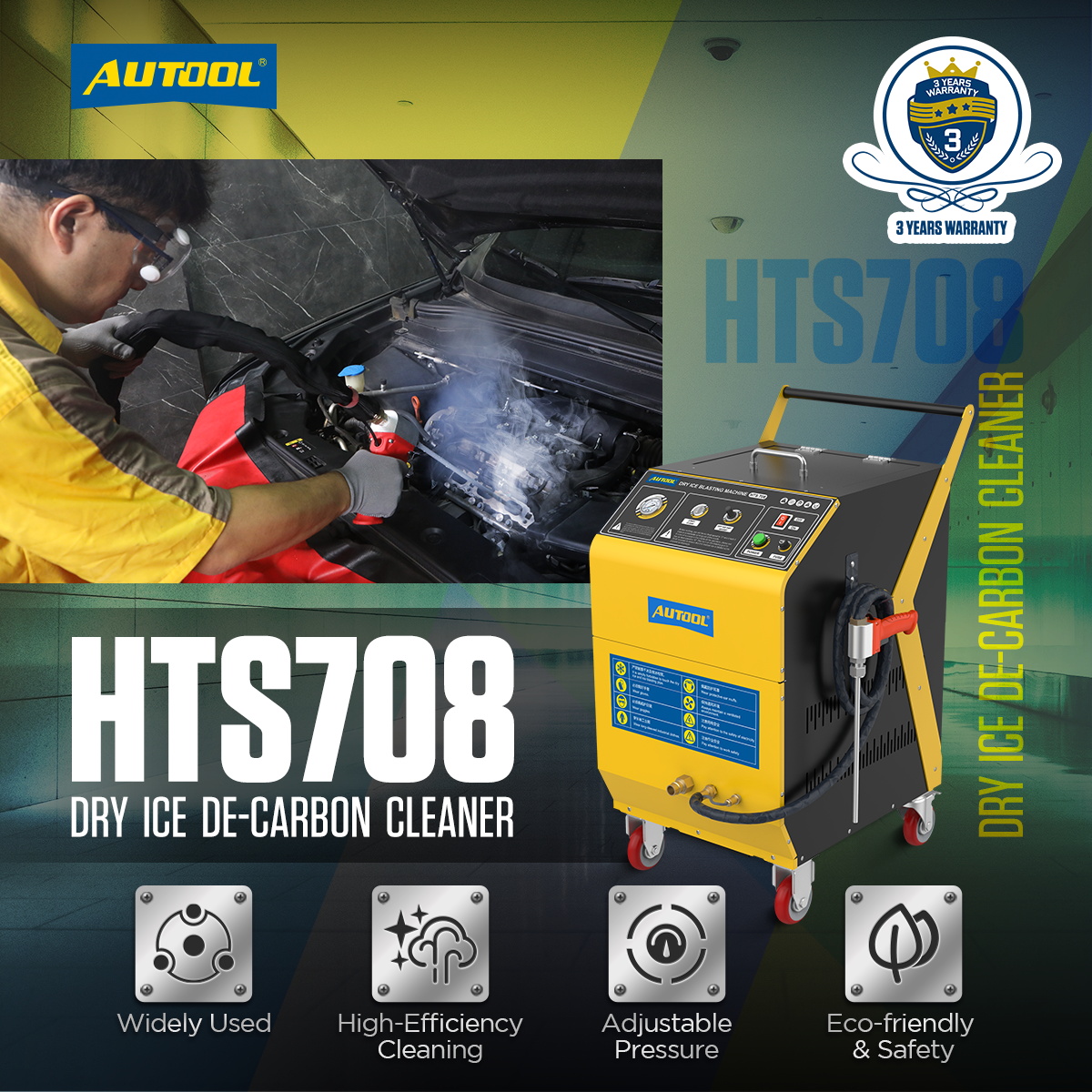 What is dry ice blasting?
Dry ice pellets (the solid form of carbon dioxide) are pressurised in an air stream and fired onto a surface. On impact, the pellet sublimates transferring kinetic energy onto the surface which in turn produces thermal shock that penetrates layers of dirt and removes them. This process effectively decontaminates surfaces of salmonella enteritidis, E-coli and listeria. It can also be used in industrial applications where equipment needs to be cleaned without being disassembled and without producing a fire or electrical hazard.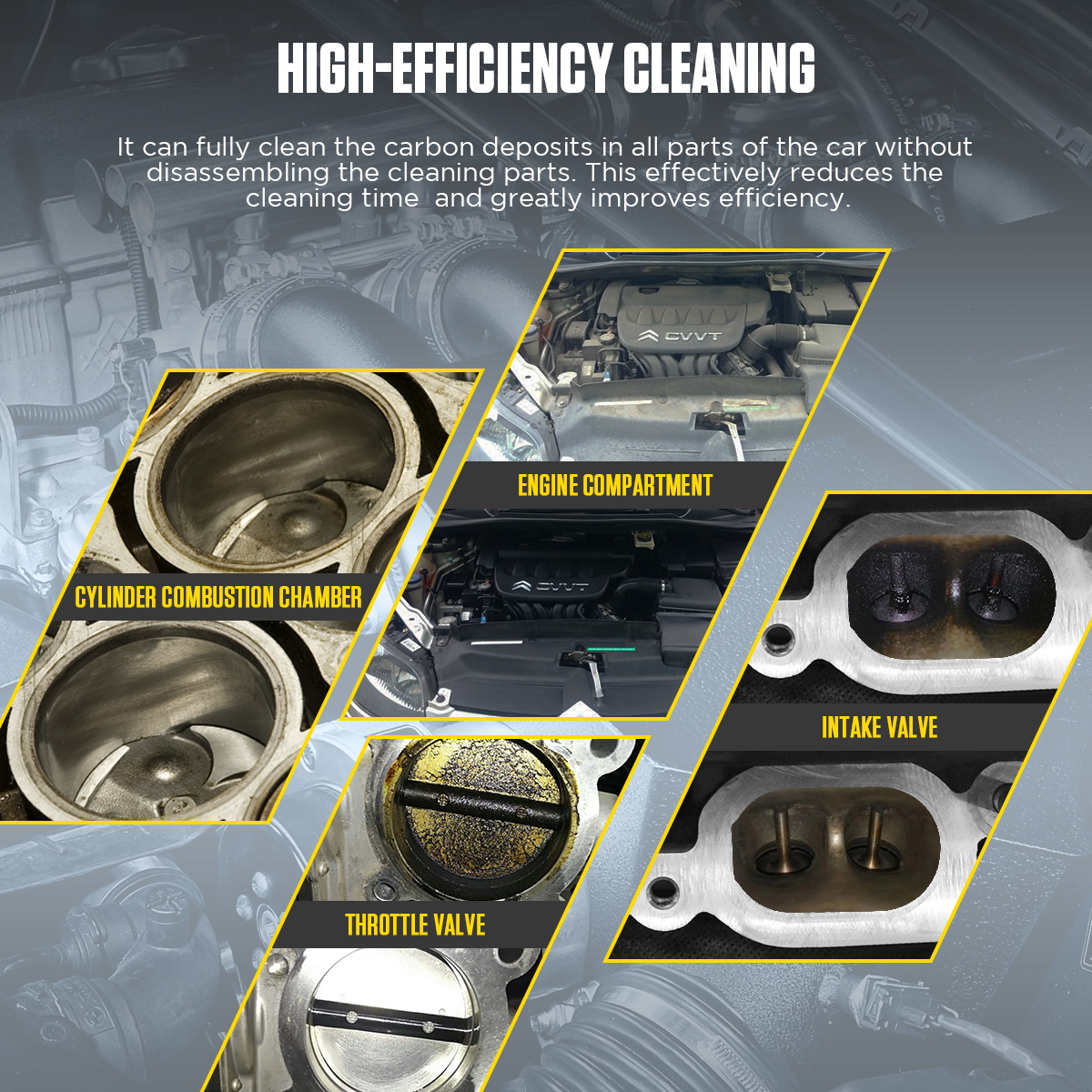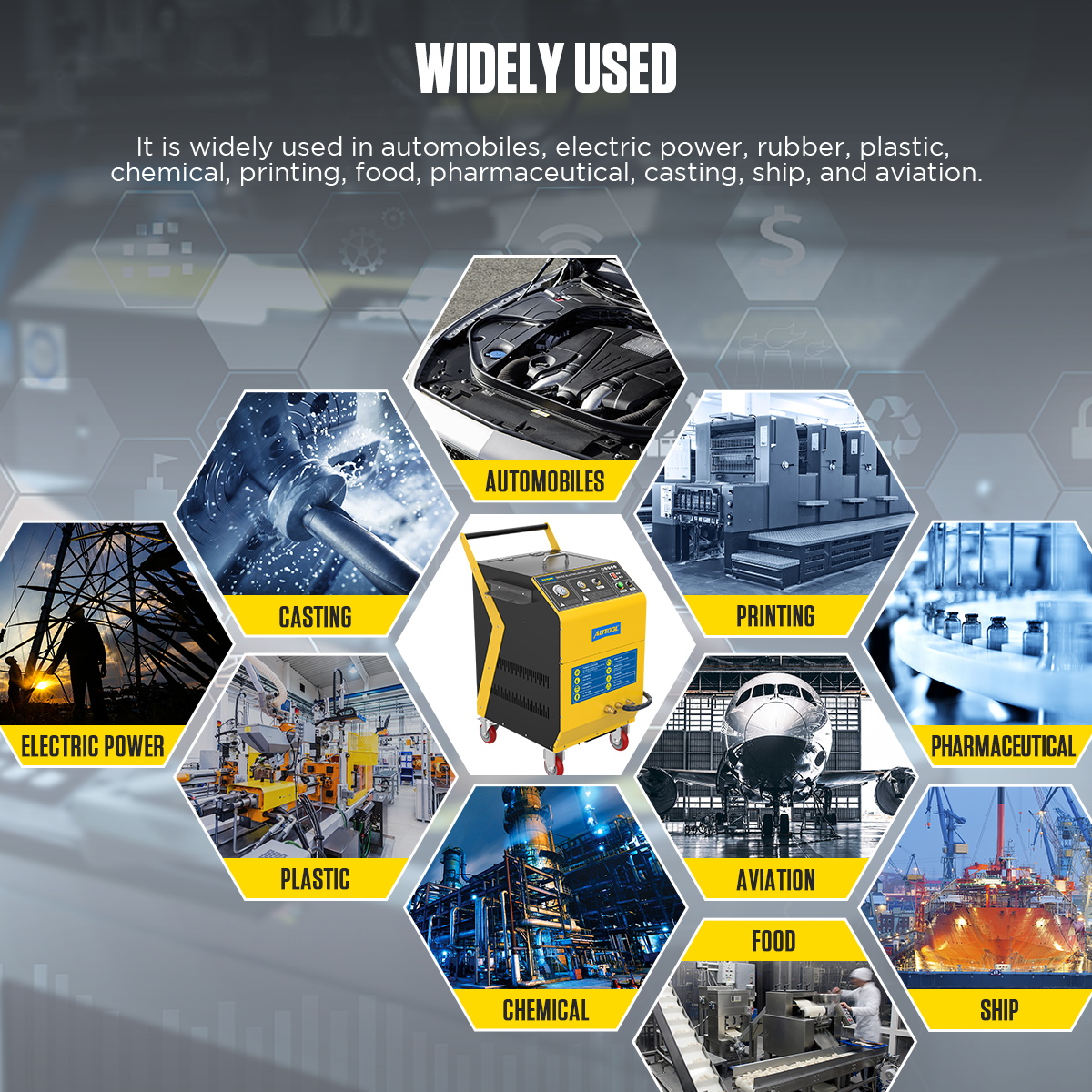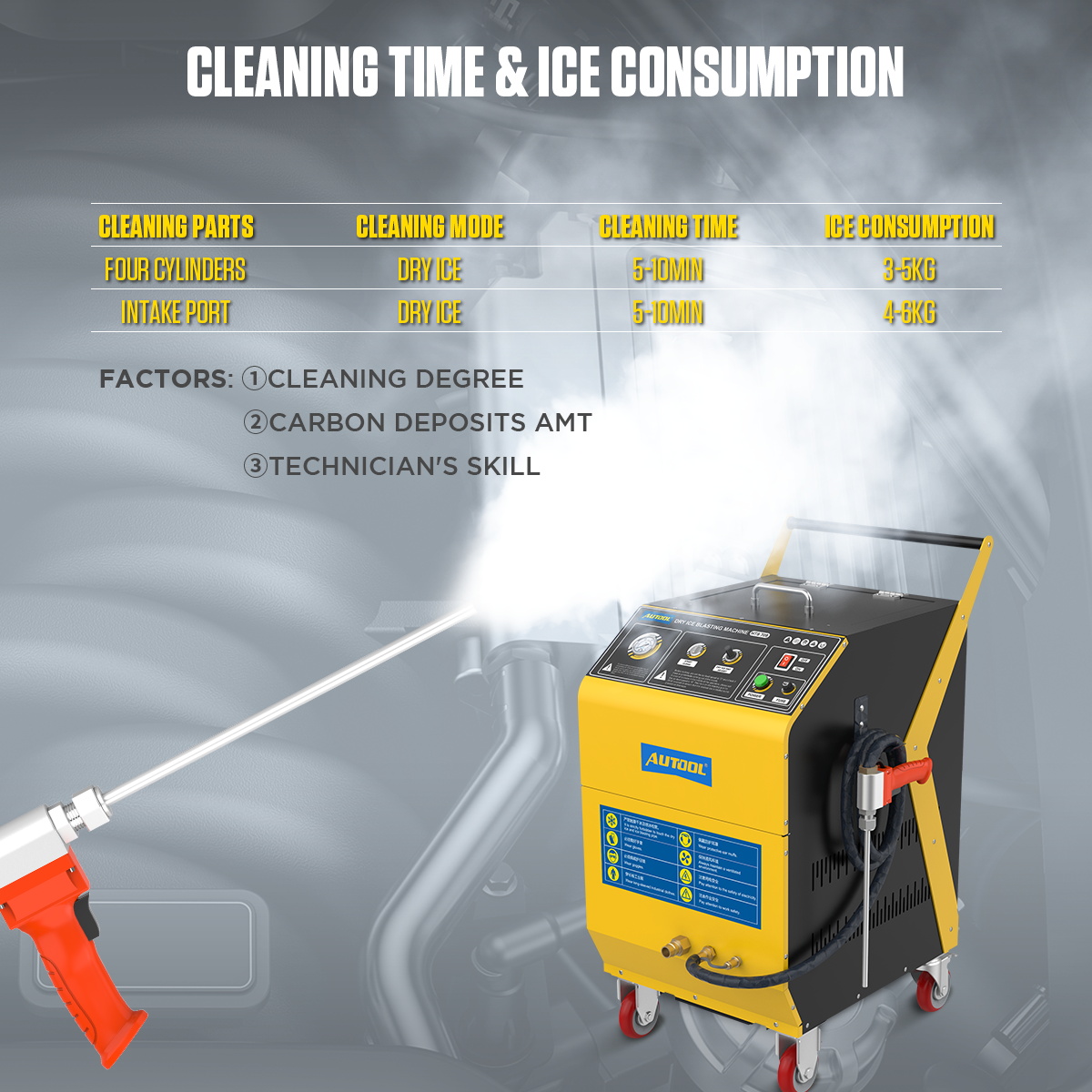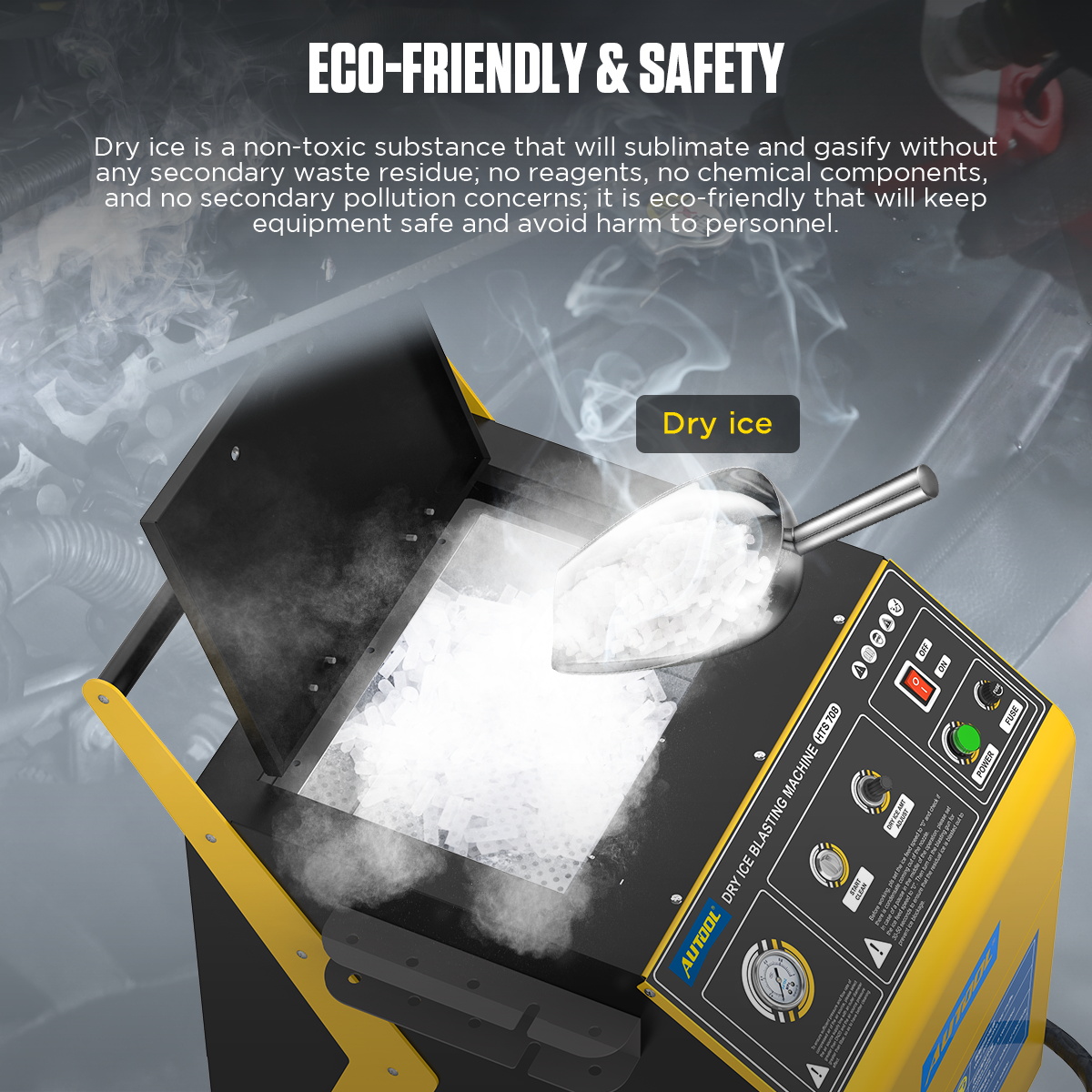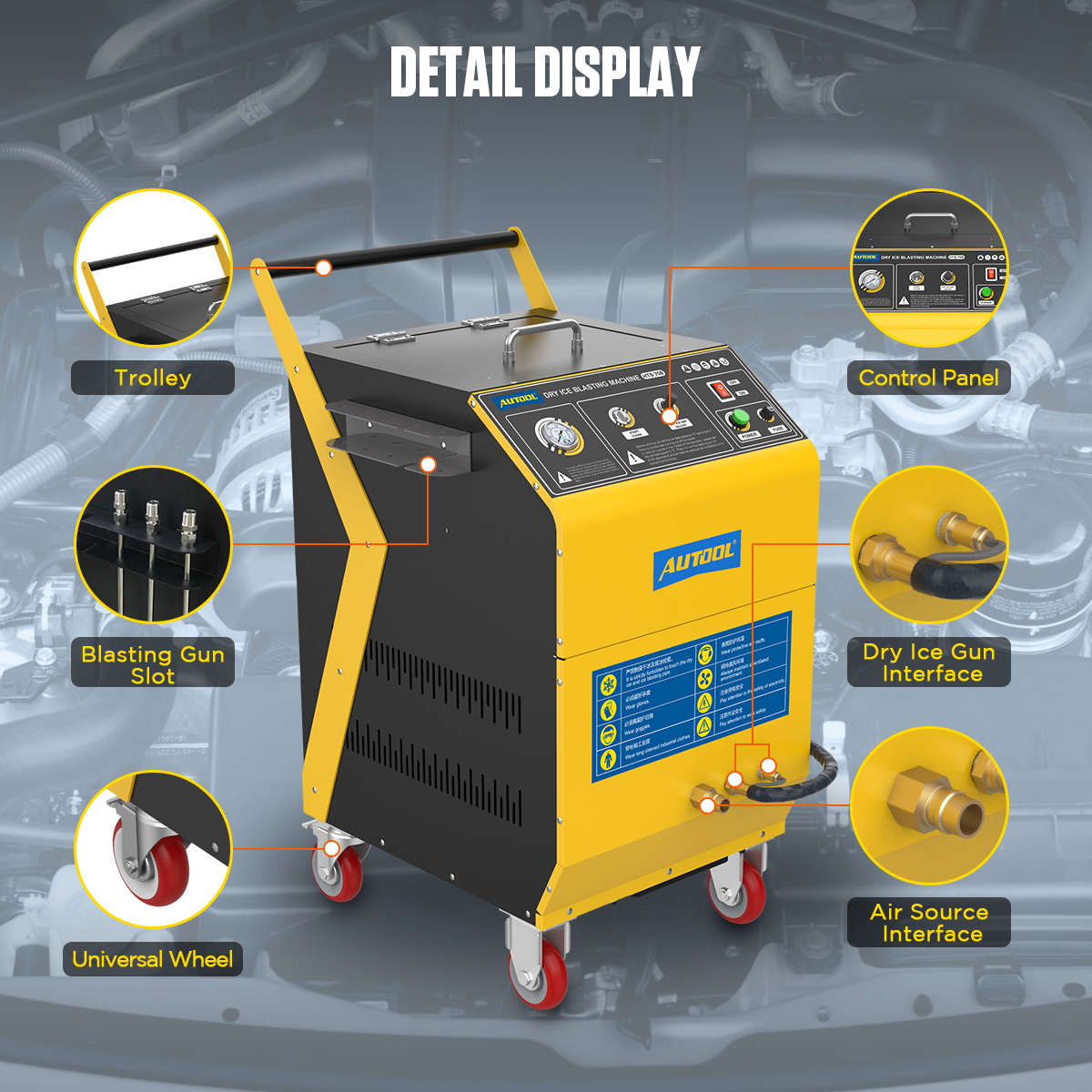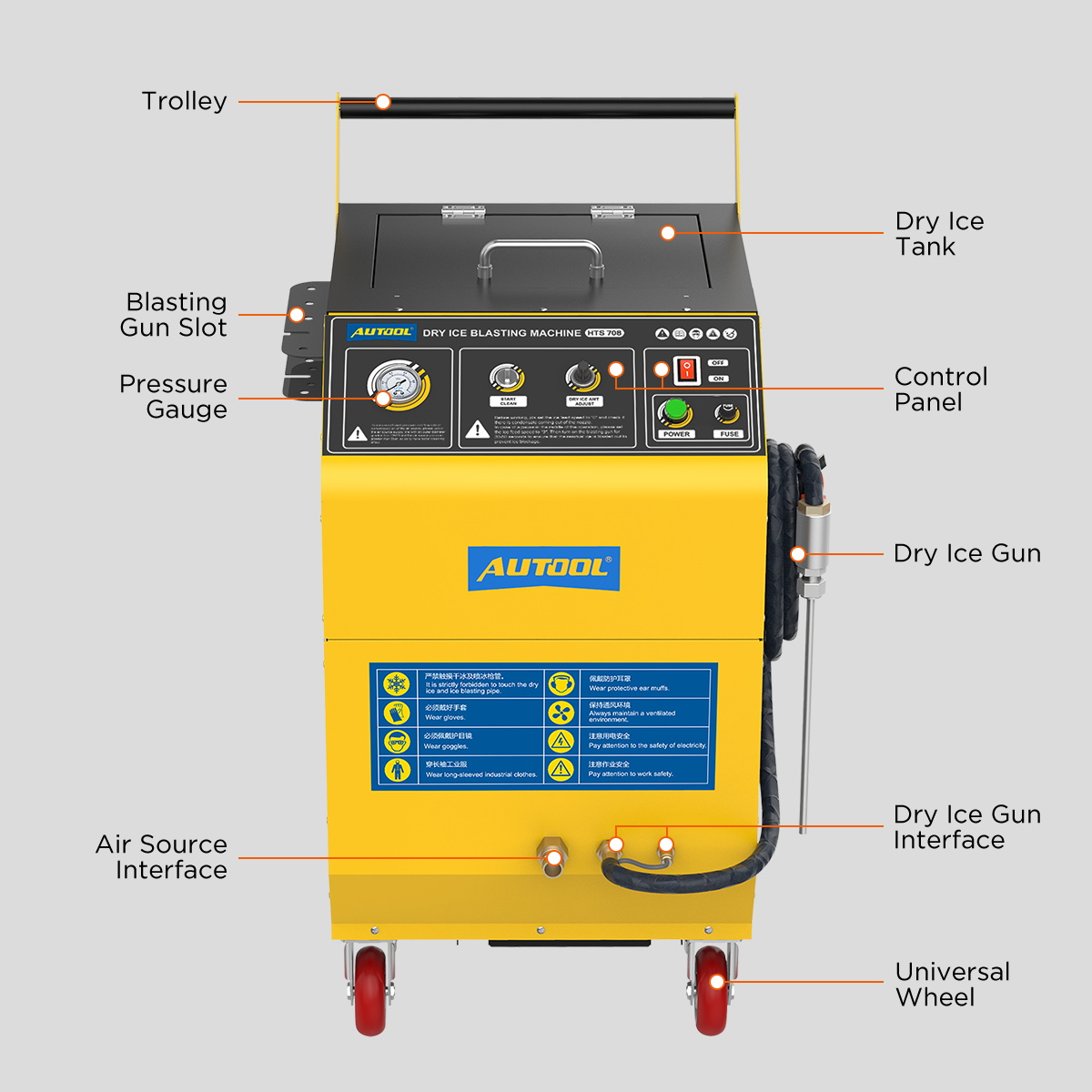 Benefits of dry ice blasting compare to chemical & mechanical method:
1.Much faster – Mechanical assemblies do not need to be dismantled
2.Food Grade – it's clean & approved for use in the food industry with no seconary contaminants such as solvents or grit media.
3.Thorough cleaning – can reach inaccessible areas, can clean the smallest holes
4.Non-abrasive – will not damage the treated surface
5.Cleans without moisture – No secondary chemical involved
6.Enviromentally friendly – no harmful chemicals involved. Safer for staff and to the eco system.
7.Time and cost reduction – reduced downtime, increased production
Application:
The HTS708 Dry ice blast machine widely used in fields such as rubber, casting, automobiles, ships, electric power, chemicals, printing, plastics, food, pharmaceuticals, and aviation.
Warranty:
AUTOOL provides 3 Year warranty and 24 hours email support.
Please feel free to contact us if you need any help!
Technical parameter:
Power supply:AC110V??10% 50Hz
Dry ice capacity: 7.5KG
Compressed air flow: >1~2.03/min
State of dry ice particles: 3mm
Air supply pressure: 0.3~1.0Mpa
Dry ice blasting amount (adjustable): 0~3.2Kg/min
Size: 500mm450mm800mm
Net weight: 60KG
Gross weight:75KG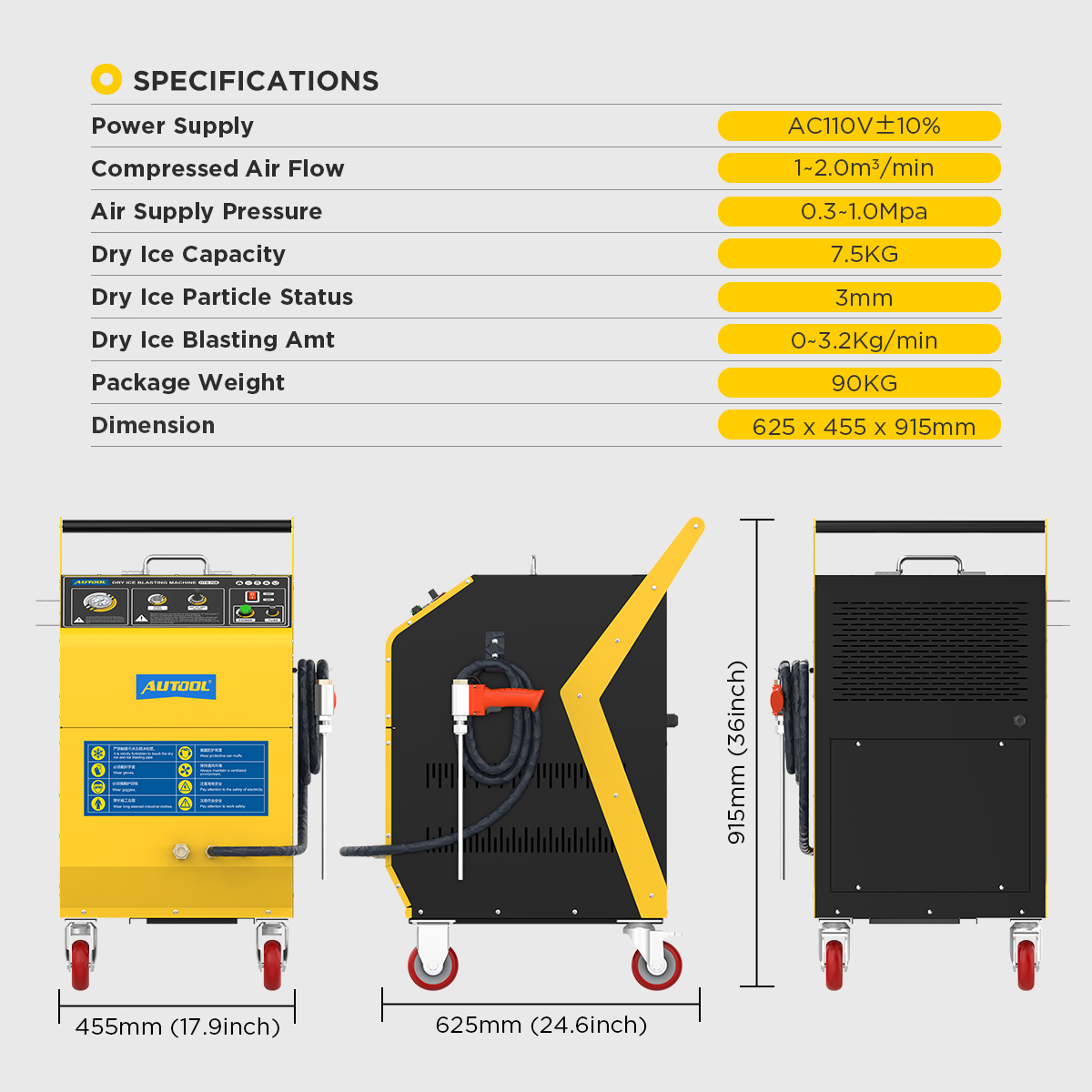 Preauction:
1) Before carrying out the work, it is necessary to wear protective goggles, ear muffs, work clothes and gloves.
2) Before working, set the ice feed speed to "O" and check if
condensate is blasted out of the nozzle.
3) After finishing dry ice blasting, it is recommended to adjust the dry ice flow to "0". Then turn on the blasting gun for 30s to eject all the dry ice in the ice tray and the dry ice tube without leaving any residue to prevent ice blockage.
4) It must be kept clean when adding dry ice, and no other foreign objects fall into the equipment.
5) This machine uses solid CO2 particles, and ventilation must be ensured when working.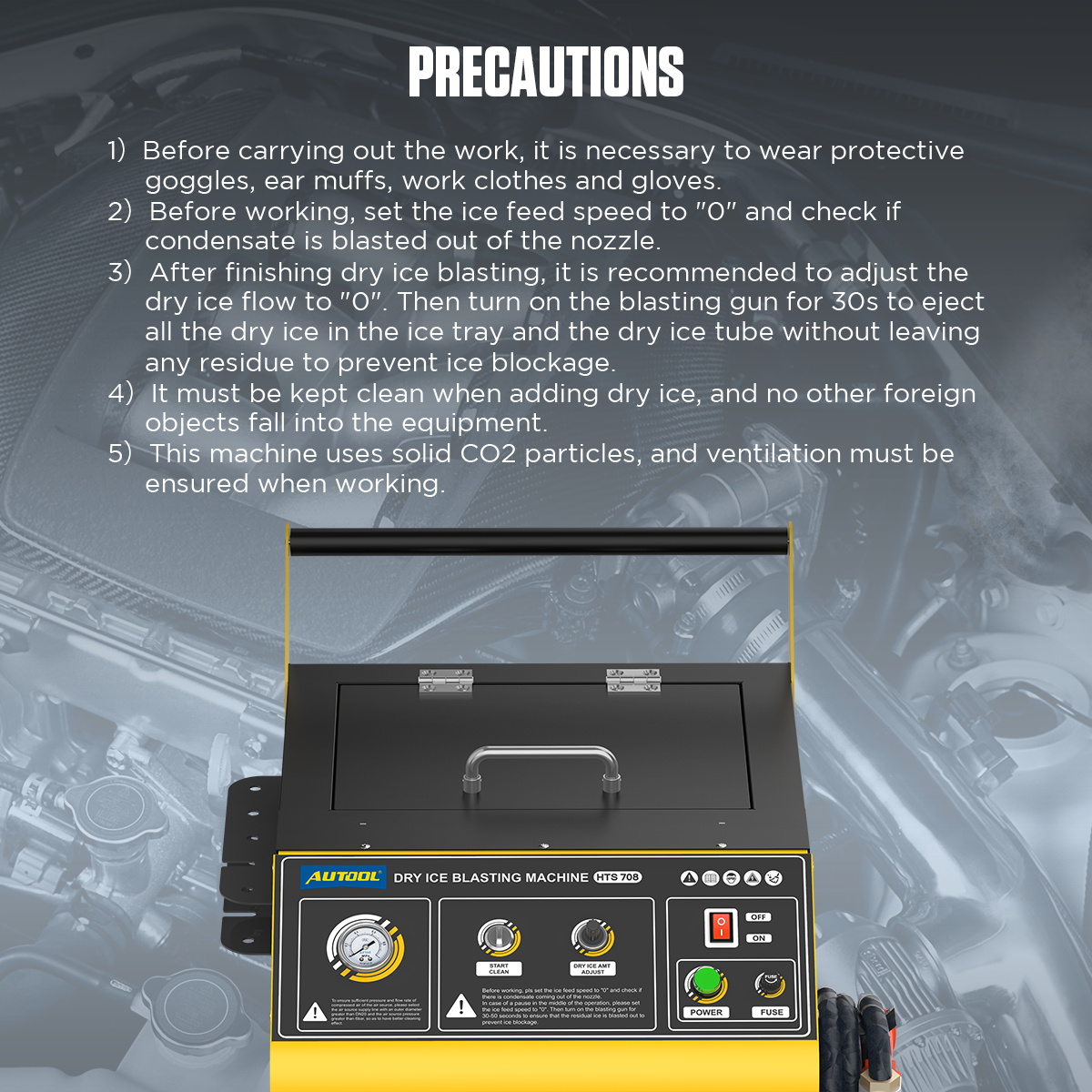 Q&As:
Q1.What size and form of dry ice required to use on the machine?
As:Use the small granular dry ice is ok,the machine will crush the dry ice.
Q2.How many PSI does the machine need to run properly?
As:Above 90PSI
Q3:Any suggestion for the compressor?
As:We suggest you use a 1.5m3/min compressor which with a 300L air tank to supply the air pressure and store air pressure in the air tank.
Q4:Does the machine run on single phase?
As:No,it doesn't run on single phase.The socket must to connect with earth wire.
Q5:How long is the blasting hose?
As:3.3 meter.
Q6:What cfm the machie run on?
As:Above 1.5m3/min.
Q7:What is the connection of air inlet?
As:15mm.
Q8:What sizes are the blast nozzles?
As:They are 5mm and 6mm.
Q9:Can you customize a longer blast hose?
As:Yes,we can customize a longer hose for you if need it,the longgest hose is 5m.You need to pay extra fees for it.Please contact us for more details.
Packing List:
1pc* AUTOOL HTS708 Dry Ice Blasting machine main unit
1pc* Shovel
1pc* A pair of gloves
1pc* Googles
1pc* Ear plugs
1pc* Air hose
1pc* A set of fitting of blasting gun (Flathead pipe, 50cm bent pipe, 35cm bent pipe, 35cm straight pipe, 50cm straight pipe)